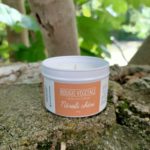 10,00€
Natural vegetable candle with the subtle scent of orange blossom.
Neroli darling, an invitation to softness and sweet memories …
The candle, it is the guarantee of a cordial environment, a bewitching perfume, a particular moment.
I have chosen to make 100% natural vegetable candles with European soy wax in order to combine pleasure and safety.
Contrary to candles made from kerosene (petroleum), they don't give off that characteristic smell when extinguished, on the contrary, you won't have toxic smoke.
Natural wax is the assurance of a healthy interior.
The wicks are ecological, no chemical treatment, no chlorine bleaching, no metal inside.
The natural perfumes are created by a craftsman perfumer in Grasse.
It is useless to offer oneself or to offer a candle if it is to breathe polluted air! 🙂
General Inquiries
There are no inquiries yet.